A Solution in Search of a Problem
Posted on
I was never a supporter of the Center of the City City Charter amendment, believing supporters made undeliverable promises and were creating a solution in search of a problem, with enormous opportunity costs. Ryan Tobias' 2016 blog post is the best compact & fair overview of that debate.
The Ann Arbor City Council August 16 2021 agenda item DC-4 is a perfect illustration of the "solution in search of a problem" nature of this ill-conceived effort. This resolution directs the City Administrator to essentially become an event planning office for this parking lot and/or attempt to strong-arm existing community groups to move their already successful & popular events to a site they have shown no proactive interest in.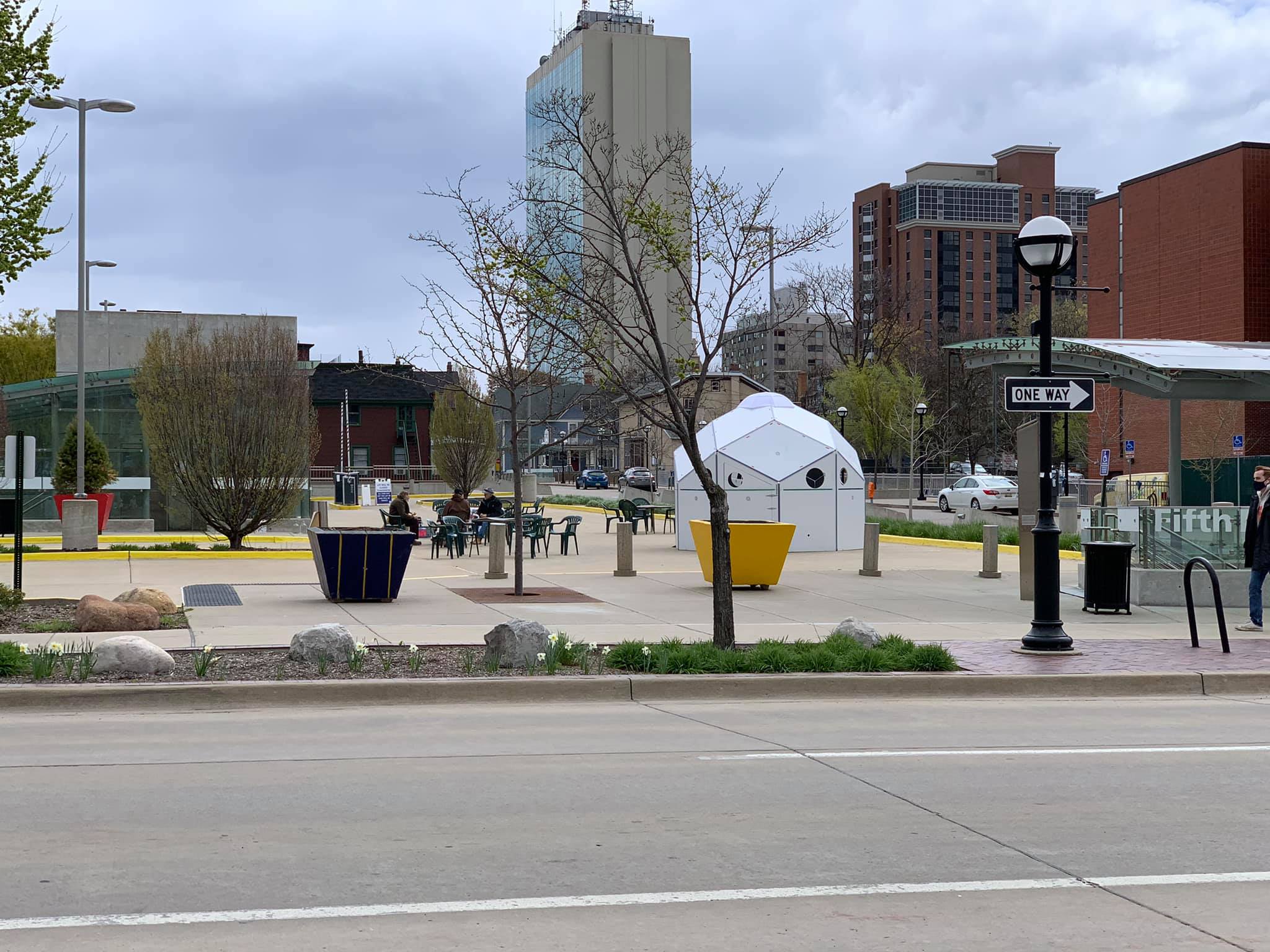 Earth Day Celebration 2020, Center of the City Parking Deck
The parking lot roof is not an ideal site for hosting events. The few events the most ardent cheerleaders for this awkward site have organized have been extremely poorly attended. Organizers of other events,have not been clamoring for access to this space as an alternative to the spaces they already use.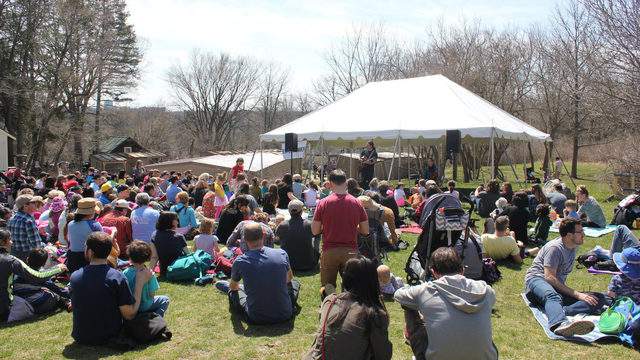 Earth Day Festival 2018, Leslie Science Center, (credit: All About Ann Arbor)
Attached to the resolution includes a list of possible holidays or events with which to coordinate events on this site. Many of these events already have organizations with long histories of organizing their events in other locations. Many of them open downtown streets to people, something we've done with increasing (and popular) frequency in this last year. Others happen on sites more suitable to the nature of the event. What problem are we solving by asking them to move to a site that is not well-suited for the nature and liveliness of their events or to steer new events away from the streets and parks where other events already thrive?
For example, historically, Earth Day gatherings took place en masse on the Diag and, in more recent years, joyous and well attended celebrations at Leslie Science Center. Why would we suggest organziers of these events move from large, comfortable open green spaces we already have to a cramped mid-block parking lot? And do we really mean to suggest that the NAACP move their annual Juneteenth event from Wheeler Park (named after Ann Arbor's first Black mayor and located in a historically Black neighborhood) to this space?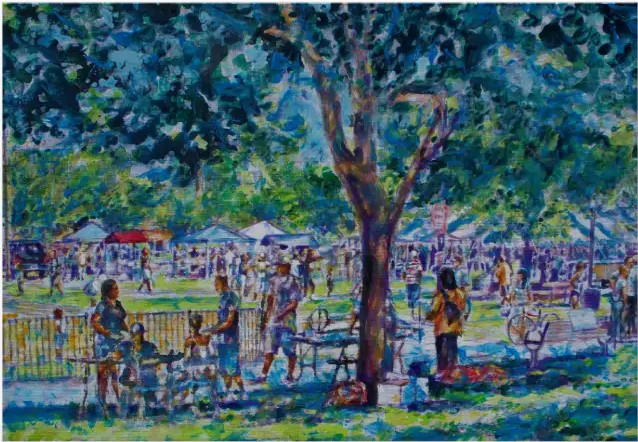 Juneteenth Gathering at Wheeler Park painting by artist Walt Griggs
Nobody is clamoring to use this space for events they already organize and there are no nascent event organizers for who this would be an ideal space. We should be listening to the needs and desires of organizers of popular, well-attended events that we all love, not a small handful of residents who keep insisting we can drive a nail with a screwdriver while we're surrounded by hammers. This resolution is a waste of time, attention and resources.
My suggestion is to take the money City Council allocated for the Center of the City (as identified by the Charter Amendement) and engage current and potential users of Liberty Plaza, a public space that does see significant public use and is part of the Center of the City Area, to evaluate ideas for improvements that would make that space more pleasant for all users; and to protect current users (who are not an immediate threat to others) to continue to occupy that space in comfort and peace.