I am the Cat - Jamuary 8, 2022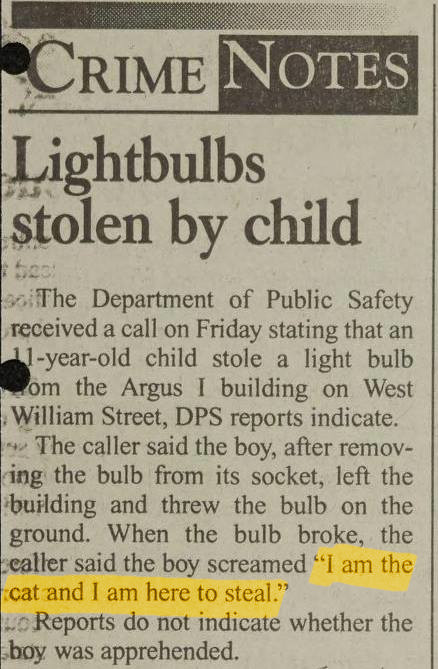 I wasn't sure what I was going to write today and then my friend Mariah shared this classic Michigan Daily Crime Notes clip on Facebook and the whole thing came to me at once. This song is a legit banger. (And yes, this is me singing, with the base pitch shifted up an octave and the formant pitch shifted up a bit to make me sound like a kid).
Lyrics
I am the cat and I'm here to steal!
I am the cat
I'm here to steal
That's a fact
It makes me feel
ALIVE!
ALIVE!
You won't even notice
No one ever does
Until the very moment
Your precious light
IS GONE!
IS GONE!
You never see me
But I'm always here
I don't even need
To try to disappear
I take what I see
Whenever I want
You don't even care
I'll smash it
ON THE GROUND!
ON THE GROUND!
Mommy didn't notice
Daddy didn't see
Teacher wasn't looking
It was always me
My friends don't know either
When I'm on the prowl
I am the cat